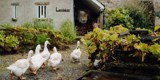 We are celebrating 20 years supporting businesses throughout Wales. So, what has happened over the last 20 years at Landsker? Here's a little bit about our journey.
Where it started 
Back in the late nineties, following a successful career in London, our Managing Director Jeremy was experiencing what we in Wales call 'hiraeth', he had made his career in the big smoke and the time had come to return to his homeland in Wales.
Hiraeth
"A feeling of longing for something from the past; A pull on the heart of homesickness and nostalgia"
The internet had made it to the green, green grass of home and had brought with it big opportunities for business owners in rural areas. There was now a landscape for business consultants with a good understanding of big business and rural communities to support rural business owners to expand and explore the new opportunities presented. 
In its infancy Landsker was known as Jeremy Bowen Rees and Associates, a consultancy working and travelling throughout the UK and Overseas working in change management and business consultancy. However, in 2001 everything changed following the tragic incident at the World Trade Centre, New York which precipitated a major change in the industry resulting in the loss of four contracts overnight. We needed to change tactics and reinvent by looking for work in Wales.
'At this point in our journey as a business things were looking scary, everything changed overnight, but every cloud has a silver lining and for us it was the jump start we needed to begin making the most of what was right here on our doorstep.' Said Jeremy Bowen Rees, Managing Director. 'After 2 years of contracting to a third party we started to contract directly and cut out the middleman allowing us to directly support and impact SMEs throughout Wales.' [pull out quote style]
Change is in the air 
A pivotal year for Landsker, 2005 brought significant changes, the first of which was employing our very first employee, David Selwyn, who has since gone on to become our Technical Director.
Next up was the decision to establish the business centre at Llwynybrain, Whitland. The business centre opened in 2006 and is now home to Landsker's staff, as well as a number of associates and tenants.
David Selwyn, Technical Director said, 'Having had the opportunity to be with Landsker from the start, it has been a very exciting journey watching the business grow. Over the years I have been able to work closely with hundreds of businesses and seeing how each of those have gone from strength to strength has made me feel really proud of what we have been able to achieve.'
Where we are now 
Since, Landsker has become one of, if not the leading independent consultancy in Wales providing support to existing and new start businesses. So, what does the future hold for Landsker? Many more years of success and growth, and the opportunity to continue supporting people throughout Wales to achieve their business dreams.
Here's to the next 20 years!