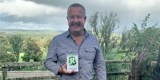 We have been named best Rural Professional Services at the Wales and Northern Ireland regional finals of the Rural Business Awards.
"We are delighted to have been selected as the winner of this award for the second year in a row. Being recognized for our work within the rural business community is something that we are incredibly proud of. We would like to extend our thanks to the judging team at The Rural Business Awards and also to our clients who make what we do so worthwhile by choosing us to support them on their business journeys." [pull quote]
Following our achievement at the regional final we will now go on to represent Wales and Northern Ireland at the national final of the Rural Business Awards in February 2022. See you at Nationals!
What are The Rural Business Awards? 
The Rural Business Awards is the brainchild of Leicestershire businesswomen Anna Price and Jemma Clifford, who wanted to showcase the wealth of entrepreneurial talent in rural areas of Britain.
The Awards are organised by rural business for rural business, with winners in the 13 categories - ranging from Best Rural Start Up and Best Rural Diversification Project; through to Best Rural Professional Services Business and Best Rural Innovation - decided by an independent panel of judges drawn from the rural business sector, rural public sector agencies, and rural charitable organisations.
The Rural Business Awards 2021/2022 will mark the Awards' seventh year of celebrating the success of businesses across the UK's rural economy.
Director and Co-Founder of The Rural Business Awards, Jemma Clifford, added: "We are very proud to be hosting the seventh annual Rural Business Awards in partnership with Amazon, especially after the past 18 months. On behalf of the Rural Business Awards team, I would like to say congratulations to Landsker Business Solutions Ltd. for this very well-deserved win and wish them all the best ahead of the national final."